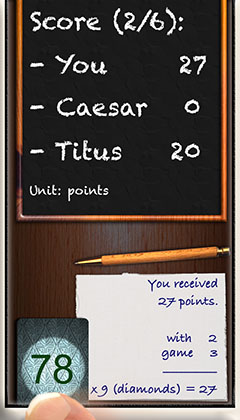 Informative & intuitive game analysis
Tap the stack of cards to see the cards and tricks of the last game.
After each Skat game, the game's declarer puts his stack of cards on the table where he sits. On the highlighted stack of cards, the points of the declarer are shown. Close beside it, the game points he has received are written on a white piece of paper.
On the blackboard, the score of the current game series is shown. The performance of all Skat players can be scored based on points, performance points or money.
To analyse your last game, please touch the stack of cards as illustrated in the picture above.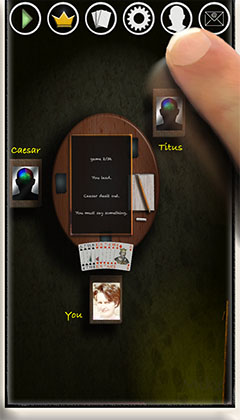 Skat statistics & game report
Statistics of all Skat games and the current game series.
To open the player's profile screen, just touch the player's profile icon in the gaming room as illustrated in the picture above. There you will see the scores, performance evaluation, and statistics of all Skat players.